New York Based - Worldwide Experience.
Our Production Facilities are Located at
133 West 19th Street, New York City, NY 10011 Phone (212) 727-1500
INCORPORATED
Winners and guests were recognized in one of New York City's most elegant venues, Lincoln Center.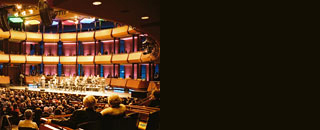 Presented February 5, 2007, Lincoln Center, NYC


We at Tobin Productions, Inc. wish to thank all our clients and colleagues
for making it possible to have won this prestigious award.
The 2006 Forbes© Enterprise Award
- the most esteemed and sought after small business award in the United States - is awarded to those small businesses which have demonstrated innovative practices and achievements in:
·
Customer Service

·
Employee Relations

·
Community Service
·
New Product/Service Offerings.
·
Marketing
We are proud to have been recognized
for our ideas, products and services. But most importantly, we are proud of our people, our Customer Service, AND OUR CLIENTS who've made this possible.
The highly qualified and objective judging committee
was chaired by Judith H. Dobrzynski, Managing Editor at CNBC, and previously reporter and senior editor at the New York Times and Business Week. She is also an adjunct professor at the Columbia University Graduate School of Journalism.
AVID Symphony · Final Cut Pro HD · Sonic Scenarist DVD Authoring · DVD Replication · Custom Packaging
"Technology, Solutions and Service"
Tobin Productions, Inc.
133 West 19th Street - 9th Floor
New York, NY 10011
212-727-1500
(P) 212-727-1500
(F) 212-727-1766
www.tobindvd.com
www.tobinproductions.com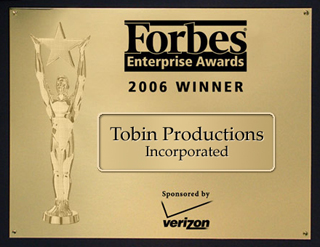 Copyright 2002 - 2006 TOBIN PRODUCTIONS Incorporated

INCORPORATED